In the era of viruses and bacteria, the importance of sterilization and disinfection is one of the topics that we need to discuss with all its seriousness. 2020 was a year with covid-19 virus and that time make the terms like sanitization, disinfection, and sterilization more common. Hence, the fight of common lives with virus getting continue and the health care tips are more crucial now.
Sterilization is defined as the destruction of all microbial life whereas, disinfection involves the use of a chemical sterilant to eliminate all microorganisms. Whereas, disinfectants kill germs on the surfaces. By killing the germs on a surface after cleaning, you can further lower the risk of spreading infection.
ROLE OF STERILIZATION & DISINFECTION IN HEALTH CARE
Disinfection and sterilization are essential for ensuring that medical and surgical instruments do not transmit infectious diseases to patients. The sterilization process can also be done by using dry heat, steam under pressure, hydrogen peroxide gas, plasma, and liquid chemicals. The importance of sterilization & disinfection also is a topic to discuss. When chemicals use to destroy all forms of microbiologic life they can call as chemical sterilants.
Similarly in the case of disinfection service where it eliminates pathogenic microorganisms from inanimate objects. In health care settings, liquid chemicals, or wet pasteurization are also commonly used to disinfect the objects.
3 CATEGORIES OF DISINFECTANTS
Based on the action of disinfectants, it can be divided into three major categories. They are high-level disinfectants, intermediate disinfectants, and also low-level disinfectants.
It refers to the treatment of medical devices to inhibit most viable microorganisms. The high-level disinfection process is the re-processing of semi-critical medical devices which are the devices that contact intact mucous membrane. In addition, they are heat sensitive and incompatible with traditional sterilization methods.
Intermediate disinfection
This level of disinfection kills mycobacteria, most viruses, and bacteria, and is also registered by the EPA as a 'tuberculocide'. Whereas, tuberculocidal means the disinfectant has the capacity to kill Mycobacterium tuberculosis. The intermediate level disinfectant does not kill bacterial spores.
This low-level disinfectant is using to disinfect non-critical items that come into contact with the skin. Quaternary ammonium compounds (quats) use commonly as low-level disinfectants. These are able to kill fungi, amoeba, mold, and also many types of microbes, and most viruses.
THE IMPORTANCE OF MEDICAL DISINFECTANTS
Disinfectants have an important role in the medical field. Because clean and hygienic medical equipment is an unavoidable part of medical care and health service. Importance of sterilization & disinfection. Improper use of medical equipment always lead to dangerous health issues and in turn affect the life of patients. Hence, the proper use of medical disinfectants is important and it helps to prevent the spread of harmful viruses and bacteria. Routine disinfection and sterilization services help to trap many infectious diseases.
Infectious diseases
Infectious diseases are the diseases caused by organisms such as bacteria, viruses, fungi, or parasites. Many organisms live in our bodies and are usually harmless. But, under some conditions, they may become harmful and cause diseases. Each infectious diseases have their own signs and symptoms. Generally, fever, diarrhea, fatigue, muscle aches, and coughing are the common symptoms. Some infectious diseases are Tuberculosis, Mucormycosis, AIDS, Chickenpox, and Measles.
Medical disinfectants
Disinfection is the process of eradicating pathogens on the environmental surface with the help of disinfectants. We can do it with the help of both chemical and physical agents. EPA registered chemicals are using in hospitals as disinfectants. The main chemicals are quaternary ammonium, hypochlorite, accelerated hydrogen peroxide, phenolic, and peracetic acid.
Hospitals should carefully consider the right cleaning product for the job. It also involves multiple stakeholders at the facility. Each piece of equipment needs to sterilize differently based on its use and role in the medical field.
DISINFECTING PUBLIC SPACES FOR COVID-19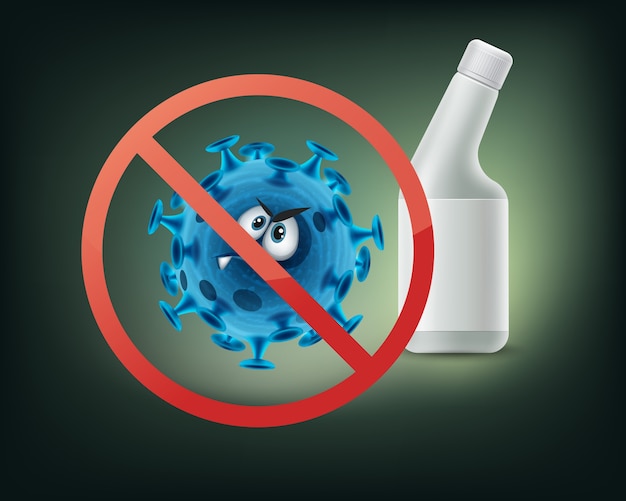 EPA and CDC propose guidelines for cleaning and disinfecting public spaces, workplaces, businesses, schools, and homes. Following the guidance will help to ensure the safety of your space during the covid-19 pandemic situation. Coronavirus disease is an acute respiratory disease caused by a novel coronavirus (SARS-CoV-2). It's transmission in most instances through respiratory droplets, direct contact with cases, and also through contaminated surfaces and objects. Here comes the importance of sterilization & disinfection.
To reduce the risk of exposure to viruses, we need to keep social distancing and use a face mask. In addition to this, proper cleaning, sanitization, and disinfection is very important. The virus that causes COVID-19 can kill if you use the right products and follow the guidelines. EPA has compiled a list of disinfectant products that can use against the virus.
3 main disinfectant products
Ready to use sprays
Concentrates
Wipes
General guidelines
Reducing the risk of exposure to COVID-19 by cleaning and disinfection is an important part. It also requires careful planning and needs to implement it in a positive way. The general guidelines for healthy living are;
Normal routine cleaning with soap and water will decrease the chance of spreading the virus. Coronavirus on the surfaces of objects and the risk of infection is much more when expose to it.
Disinfection using EPA-approved disinfectant agents against the virus can also help to reduce the risk of infection.
Do not mix bleach or other cleaning and disinfection products together. This may cause fumes that may be very dangerous to breathe in.
Ensure adequate ventilation while using chemical disinfectants.
Store and use the chemical disinfectants out of the reach of children and pets. Use it in a responsible and appropriate manner.
Never eat, drink, breathe, or inject these products into your body or apply directly to your skin as they can cause serious harm.
Do not overuse or stockpile disinfectants or other supplies.
Practice social distancing, wear facial coverings and follow proper prevention hygiene, such as washing your hands frequently.
ALSO, READ